Part of my series of notes from NAACL-HLT 2019 in Minneapolis.
Slides for this tutorial are here, from which all the images in this post are taken (I was not well placed to take photos anyway).
Part I: Adversarial Learning & GANs
subareas, interpretation, success stories, pitfalls
interdisciplinary – vision, security, game theory…
what about NLP?

progress is "on the slower side" (tactifully put)

adversarial examples, training, & generation
Alzantot et al., EMNLP 2018 – adversarial examples for NLI by subbing in synonyms

cf. brittleness vs. generalisation in deep learning, statistics more generally

Coavoux et al., EMNLP 2018 – latent representation sent over private channel

attacker trying to decode representation to original input
Adversarial Training
adding noise, randomness, or adversarial loss to training objective
Wu et al., EMNLP 2017 – Adversarial Training for Relation Extraction

task is relation classification given entities
regularisation of feature space
simple but effective

adversarial learning is not just GANs! that being said…
GANs
generator vs. discriminator game, reach equilibrium, yadda yadda yadda
many issues…
mode collapse: can't produce diverse samples
often still need to pre-train discriminator and generator, but not clear how much

too much => not much entropy, mode collapse
too little => doesn't converge

instability of training – and now you need to train two models!

discriminator can overpower generator
models with very different architectures, might need different numbers of updates etc. (e.g. self-attentive vs. recurrent)

originally designed for continuous data, what about discrete?

cannot backprop through generated X when X is discrete

BUT: SeqGAN (Yu et al. 2017) – policy gradient for generating sequences

de Masson d'Autume et al., 2019 on arxiv – Training Language GANs from Scratch

claims no MLE pre-training
per-timestamp dense rewards
learning isn't sample-efficient with sparse end-state rewards, dense rewards help

why shouldn't NLP give up on GANs?

unsupervised
discriminator is often learning a metric – reward-learning
self-supervised learning (especially with dense rewards)

[aside: isn't "self-supervised" actually just what unsupervised means?]
Applications
contrastive estimation (e.g. Bose et al., 2018)
domain adaptation (many) – e.g. concept drift
IR GANS for ranking (Wang et al., 2018)
Wang et al., ACL 2018 – No Metrics Are Perfect: Adversarial Reward Learning

e.g. for generation – don't really know what the objective should be (BLEU, ROUGE, etc.), why not learn it

DSGAN (Qin et al., ACL 2018) – Distant Supervision IE
also can use GANs to denoise training data
KBGAN (Cai & Wang, NAACL 2018) – iteratively learn better negative examples for knowledge graphs
Case Study: Dialogue Systems
what should the reward be for dialogue systems?

e.g. the Turing Test… is basically a GAN!

adversarial learning for neural dialogue generation (Li et al. 2017)

this is about chitchat not goal-oriented dialogue

basically this is reward, use policy gradient to backprop to generator
also teacher-forcing – combining imitation learning / human demonstration with reinforcement learning
self-supervised dialogue learning (Wu et al. ACL 2019, not yet online)

learn dialogue structure (sequence ordering)
permute dialogue acts and see if discriminator can distinguish
Part II: Adversarial Examples & Rules
adversarial examples: what's going on here?
in high dimensions, almost all points are close to the decision boundary

don't think I've ever heard it put this way before…

applications:

security of ML models – "what's the worst that could happen"
evaluation – held-out test error is not enough
finding bugs – "natural" adversaries (e.g. typos)
interpretability – what does the model care about, what does it ignore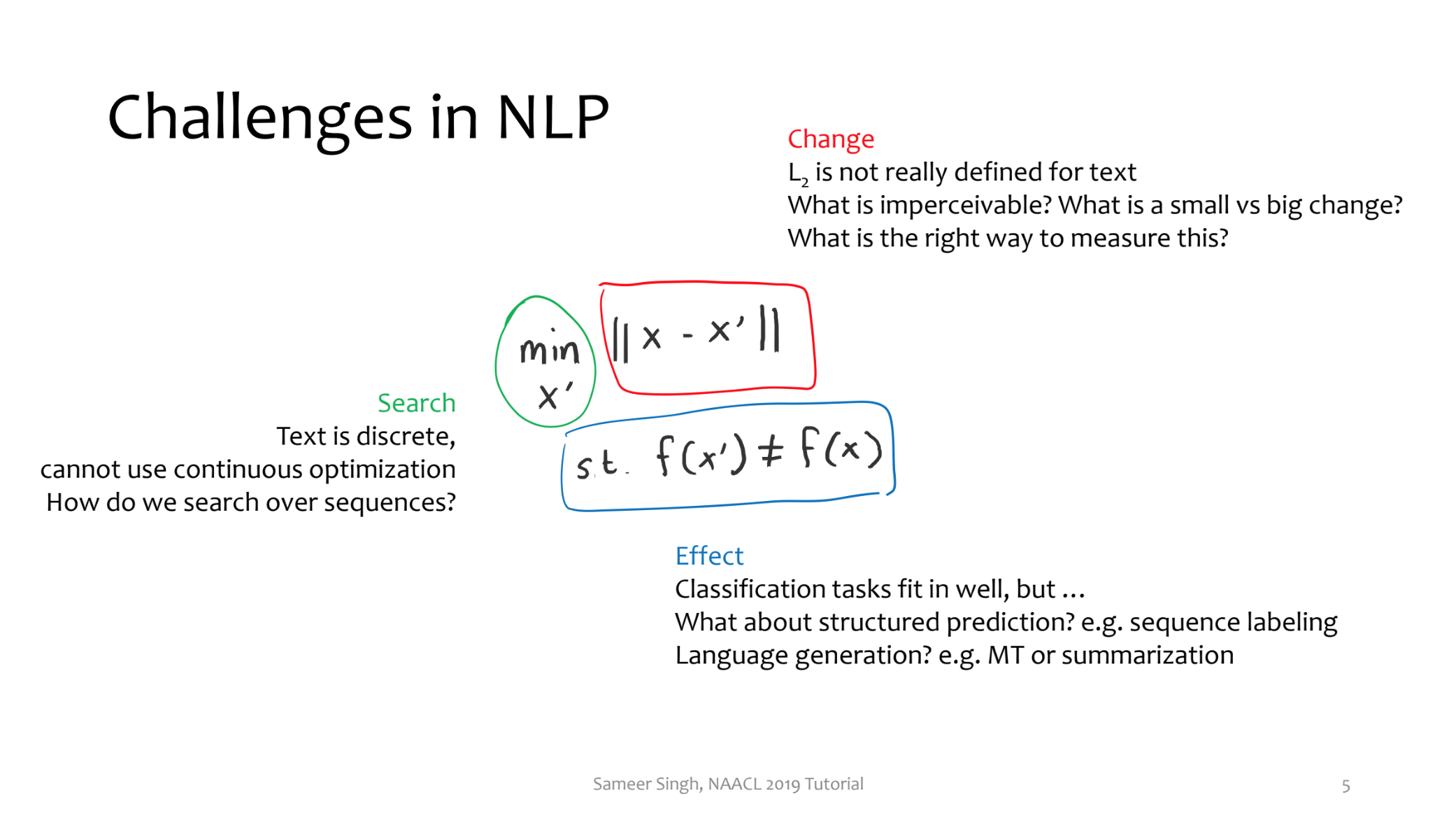 challenges for NLP

change – no L2, what is imperceptible / small vs. big change?
effect – condition of misbehaviour if the task isn't classification, e.g. structured prediction and generation
search – text is discrete, how to search over all sequences?

"people have been working on all three of these, and when you combine them, you get a paper"
choices in crafting adversaries…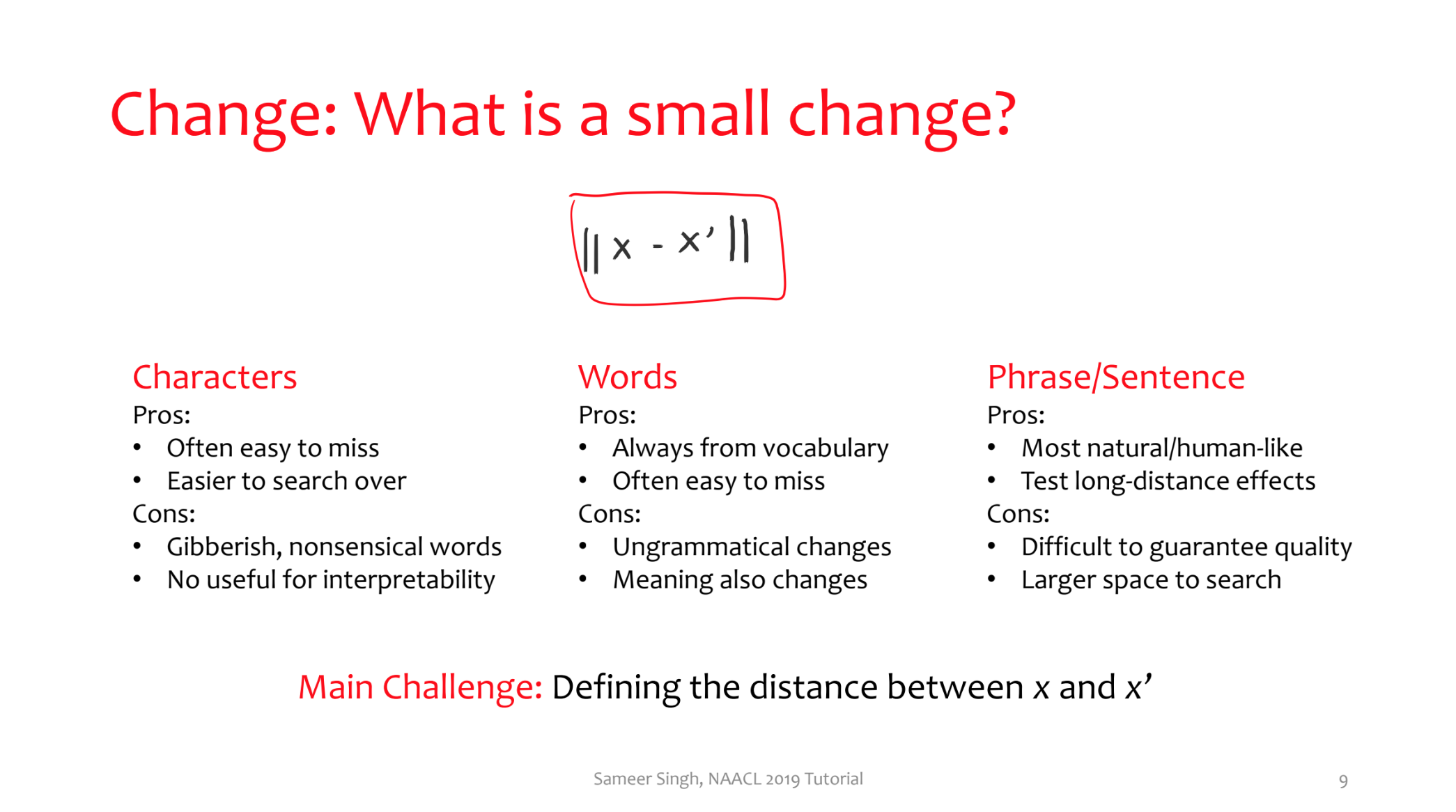 What is a small change?
characters vs. words vs. phrases / sentences

pros and cons to these
main challenge: what is distance? (edit distance, semantics…)

character – add/swap/remove characters

can result in words whose nearest neighbours are very far

word – random, word-embedding-based, POS-constrained, language model

depending on what you're trying to do, some of these perturbations are really not a problem

paraphrasing via backtranslation

words can be completely different, but has to mean the same thing

changing via sentence embeddings – can do normal L2 distance in representation space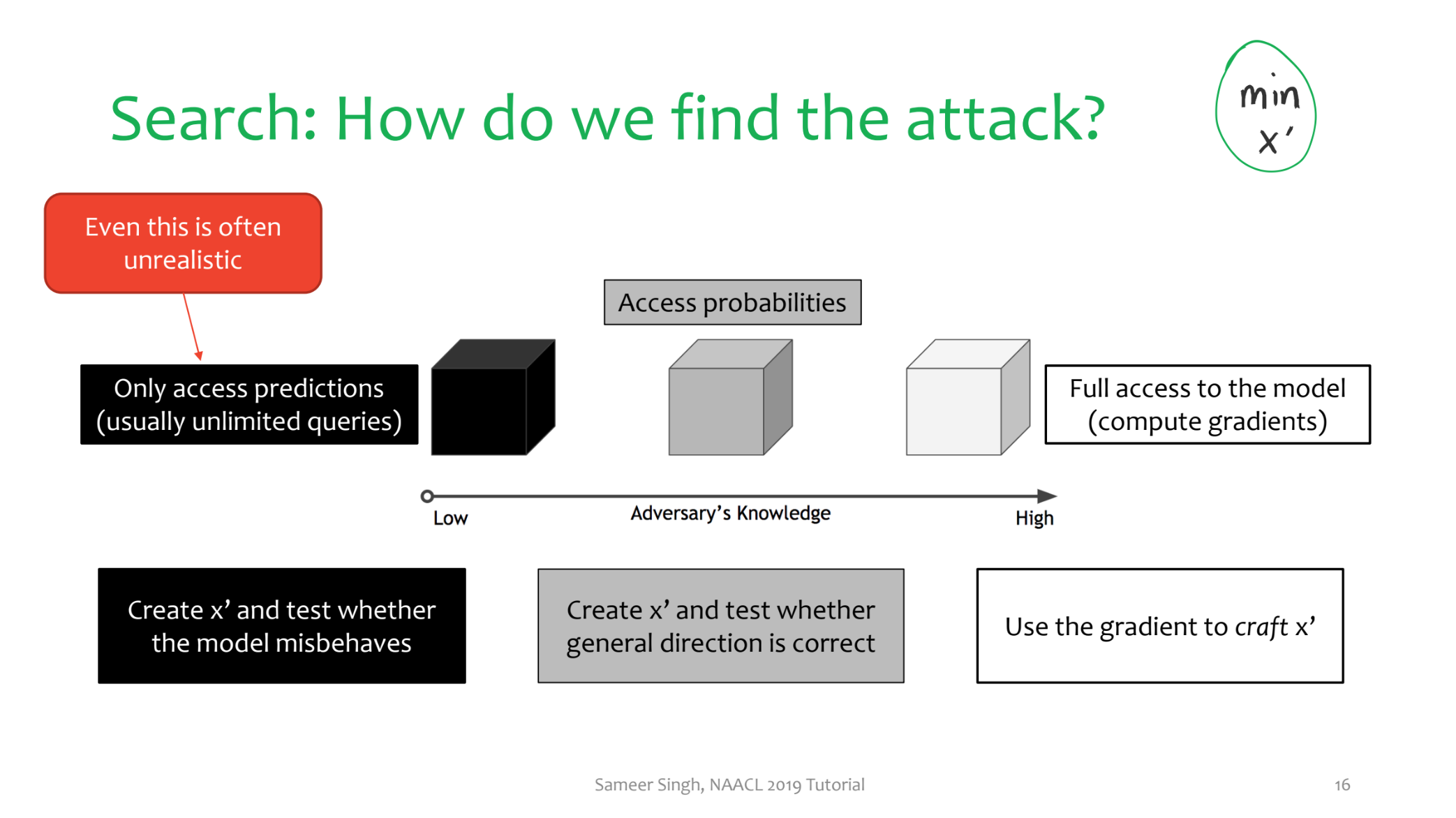 How do we find the attack?
need to know threat model

black box – only get model output
white box – full model access, i.e. gradients
grey box – like black but you have access to probabilities

in practice even black box is unrealistic, don't have unlimited queries
gradient-based (white)

step in the direction of the gradient
find the nearest neighbour (since the new embedding might be gibberish)
repeat as needed – can do beam search

sampling-based (grey)

generate perturbations, select ones that look good
repeat as needed

trial & error (black)

try some stuff, see if it works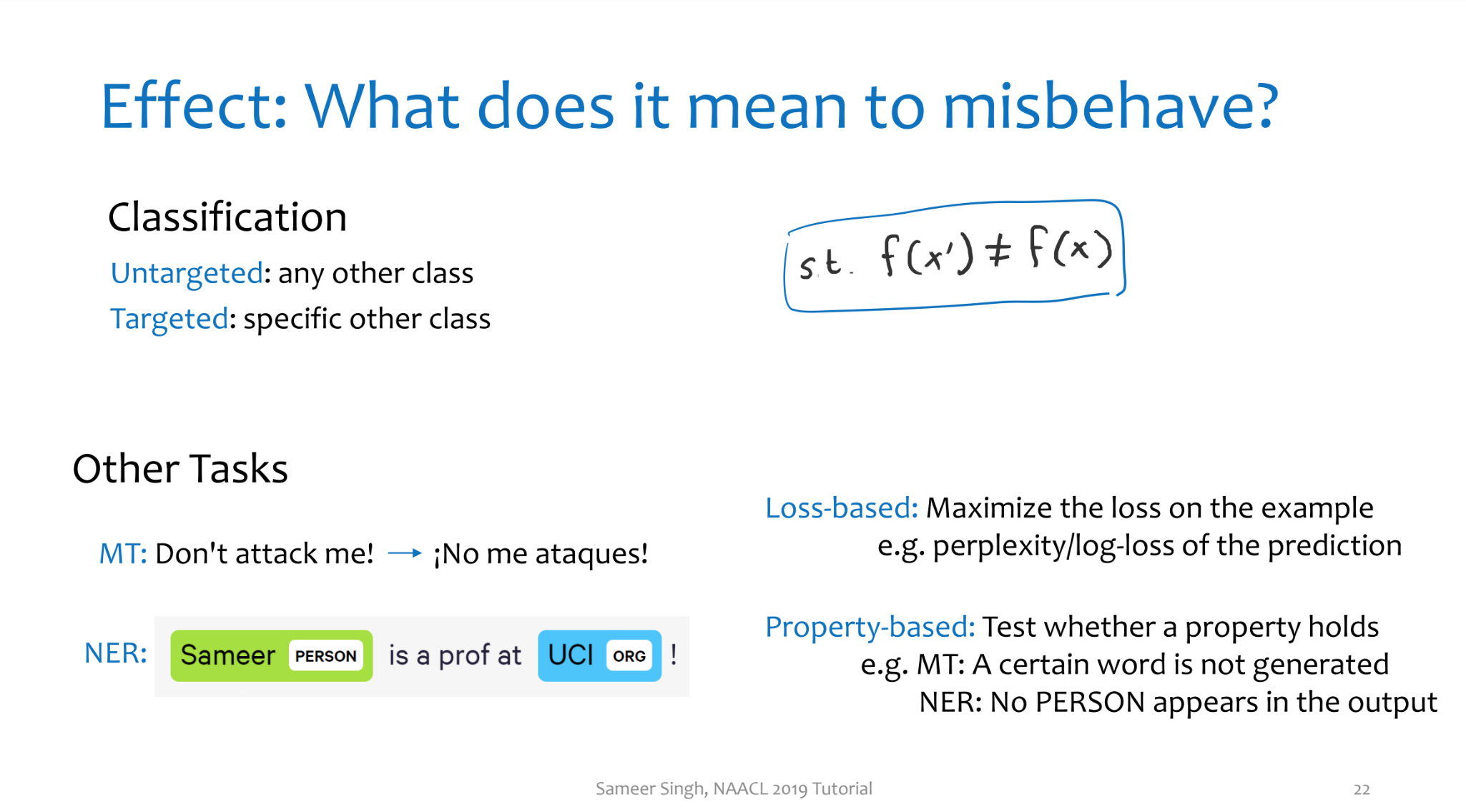 What does it mean to misbehave?
classification – want it to be another class (any / targeted)
loss-based – just try to maximise loss
test whether a certain property holds

e.g. word is / isn't generated, no PERSON entity detected, etc.

evaluation – are the attacks "good"?

effective
perceivable – should they have the same label, does it seem natural, does it mean the same thing
does it improve the model
just look at some examples :shrug:
Some Papers
Less related but still related
CRIAGE: adversaries for graph embeddings (Pezeshkpour et. al. NAACL 2019

add / remove links to result in incorrect facts

"should not change" (adversarial) but also "should change" (overstability) (Niu & Bansal, CONLL 2018)
more on overstability – anchors (Ribeiro et al, AAAI 2018)

what are the regions where the prediction doesn't change
e.g. VQA – as long as question has the word "what" in it, the answer is always "banana"

input reduction (Feng et al, EMNLP 2018 )
overstability is very interesting and I definitely hadn't heard of it before!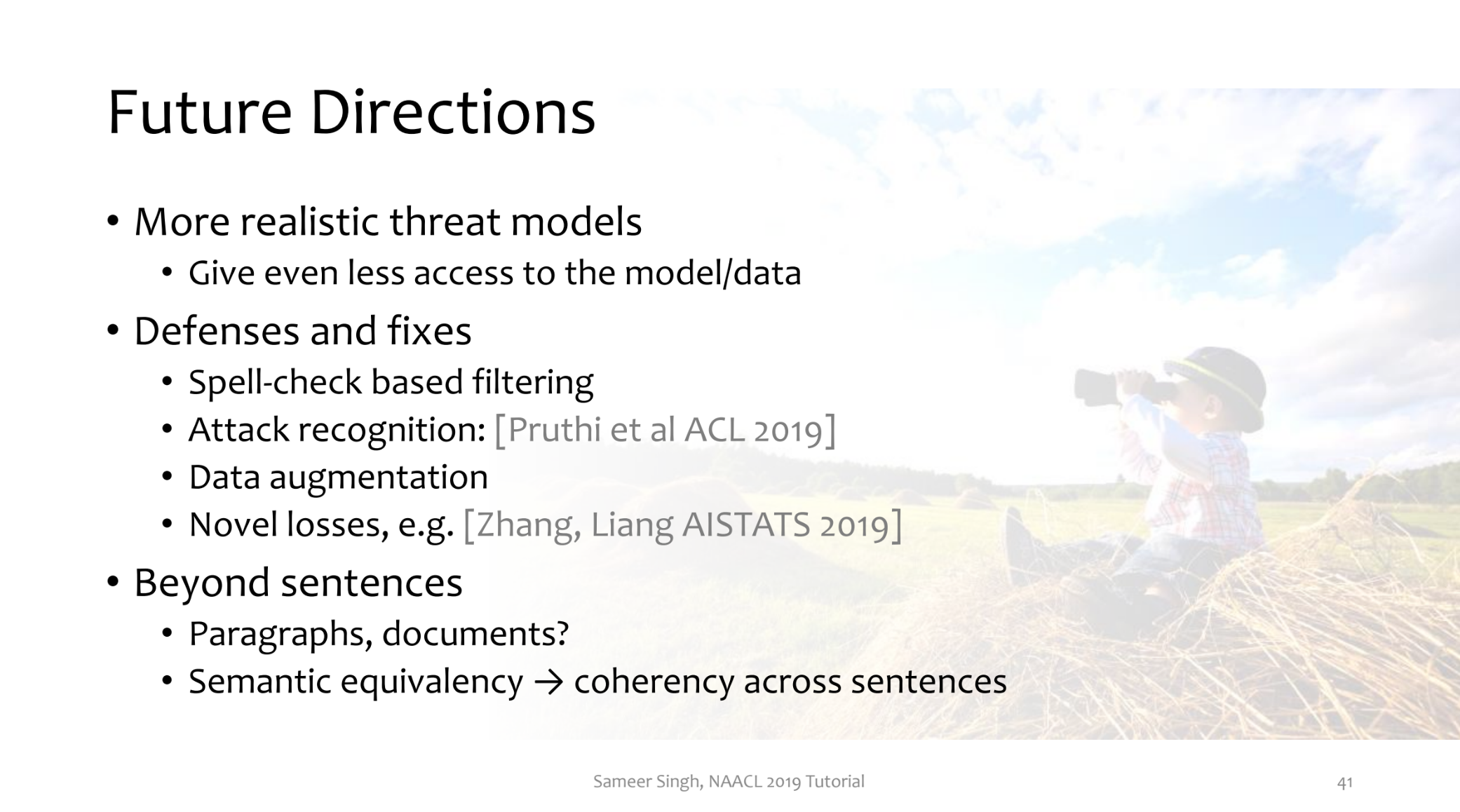 ---