Part of my series of notes from ICLR 2019 in New Orleans.
These are talks (and panels) from the Safe ML Workshop.
Introduction
ensure ML algorithms

do what they're supposed to
avoid causing harm
have positive impact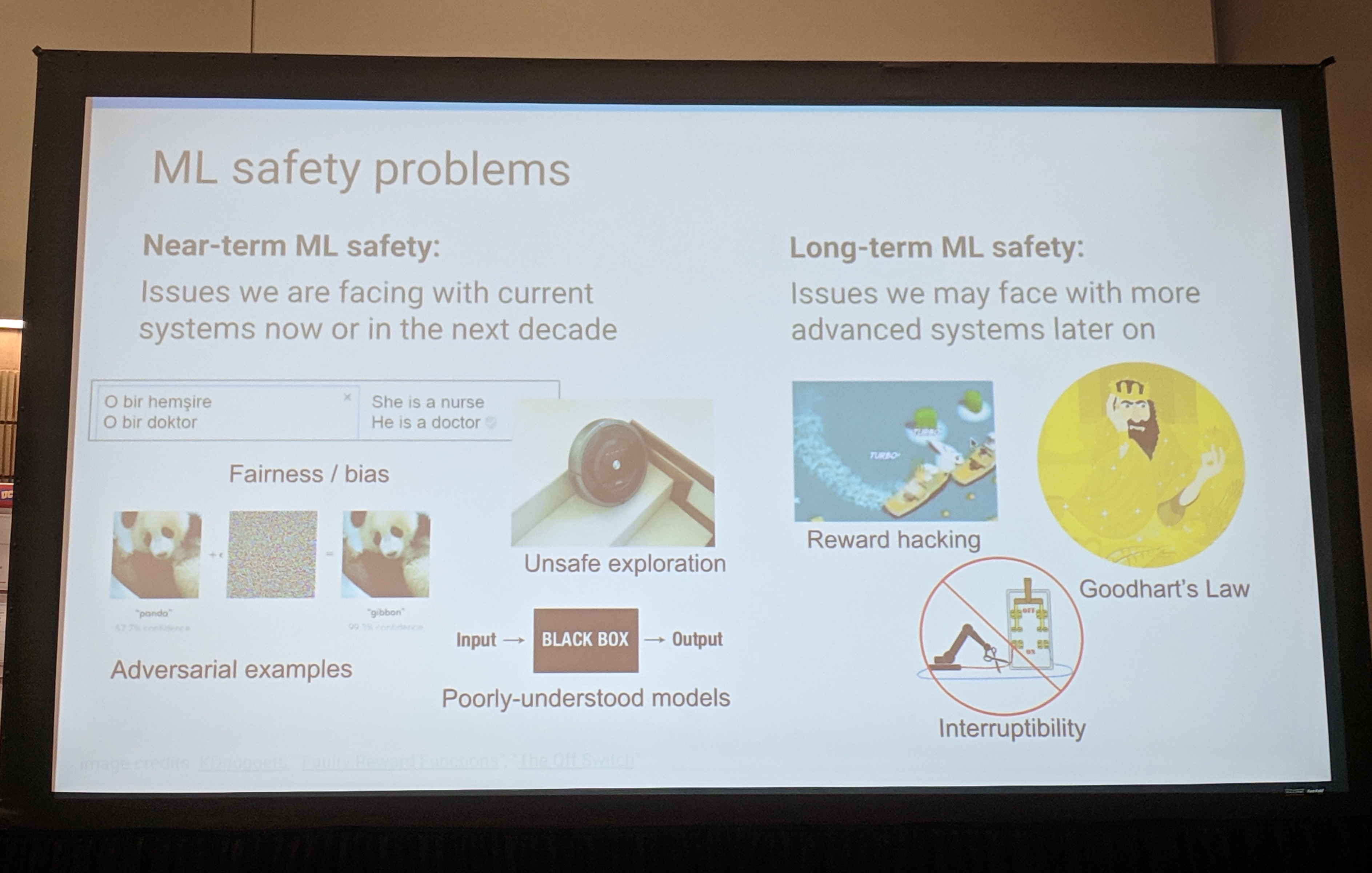 Cynthia Rudin: Interpretability for Important Problems
example: EEG used to monitor seizures

expensive and not well-utilized where needs to be
need seizure prediction

=> 2HELPS2B score – ML model but totally interpretable, medically validated

sparse linear model with integer coefficients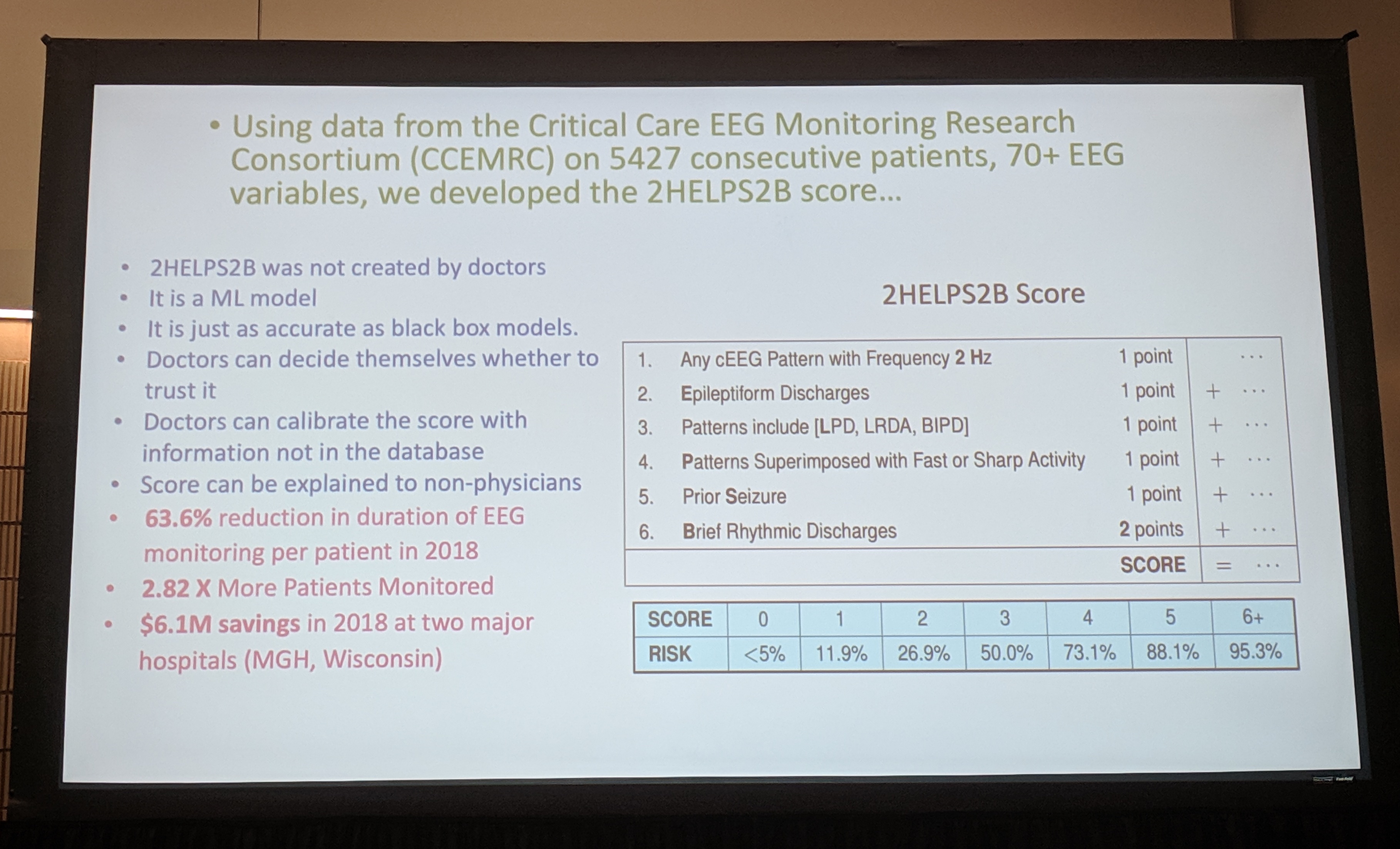 add constraints to improve interpretability while retaining accuracy
Rashomon set – the set of good (equally accurate) models is fairly big, so there's probably an interpretable model in here

(I assume this is named after this movie, which you should definitely watch if you haven't already!)

explainability (posthoc) vs. interpretability (no black boxes to start with)
a hilarious FICO competition story…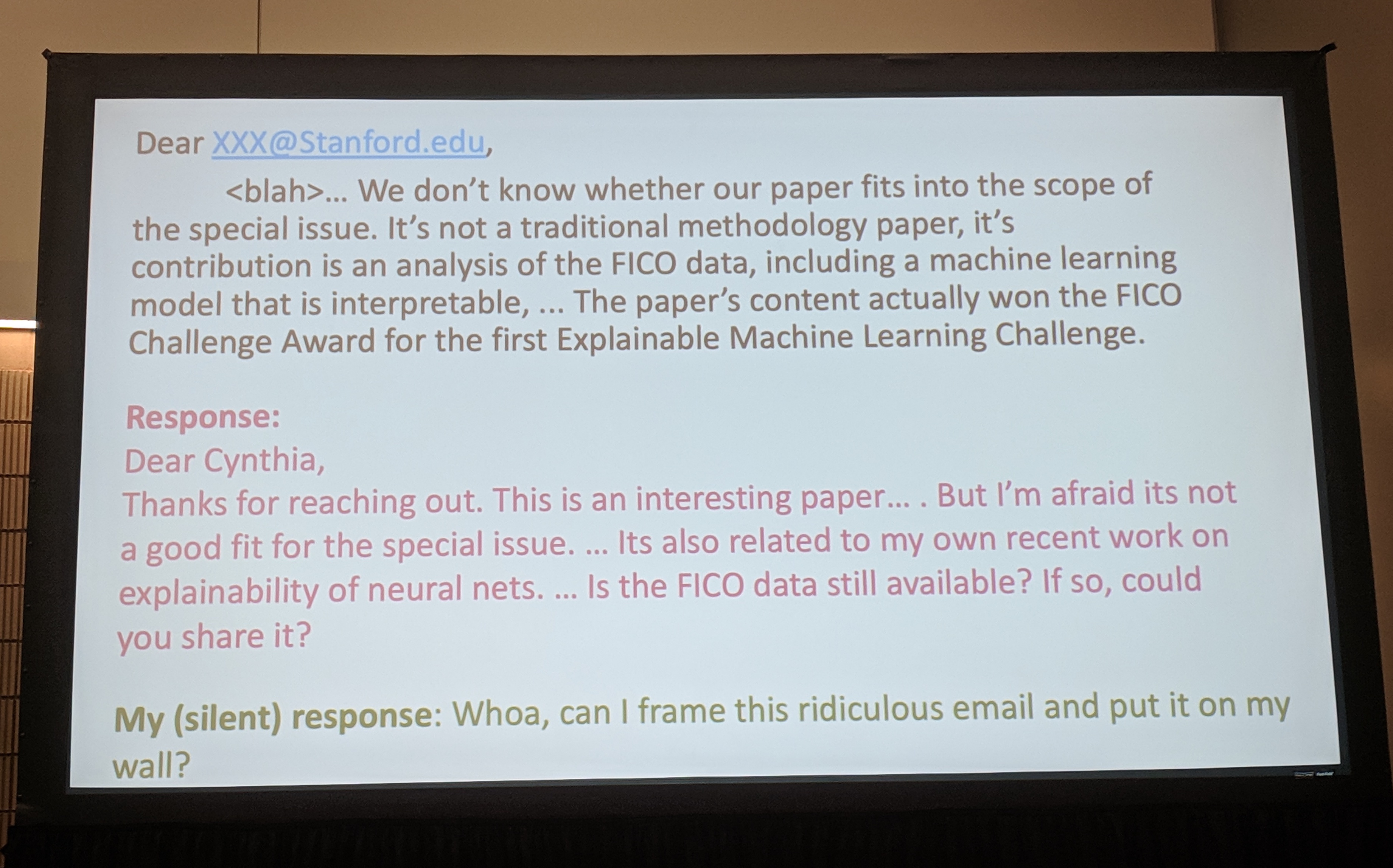 sometimes you really don't need black boxes
sometimes you do though, e.g. computer vision
This Looks Like That (Chen et al. 2018)

case-based reasoning – "K-nearest parts of prototypical cases"
learn prototypes, similarity scores, class connection weights

Risk-SLIM (Ustin & Rudin 2017)

bad, bad objective (complexity theory-wise)
lattice cutting plane algorithm – adapted to work for mixed-integer program

takeaway: training these kinds of models is difficult, but doesn't require sacrificing accuracy

if you're working on something important, maybe it's worth it
Dylan Hadfield-Menell: Formalizing the Value Alignment Problem in AI
how models figure out what you want
Faulty Reward Design – intended vs. actual environment when designing reward functions
Bayesian approach to express uncertainty about unknown states
=> Inverse Reward Design – provide proxy reward function + training environments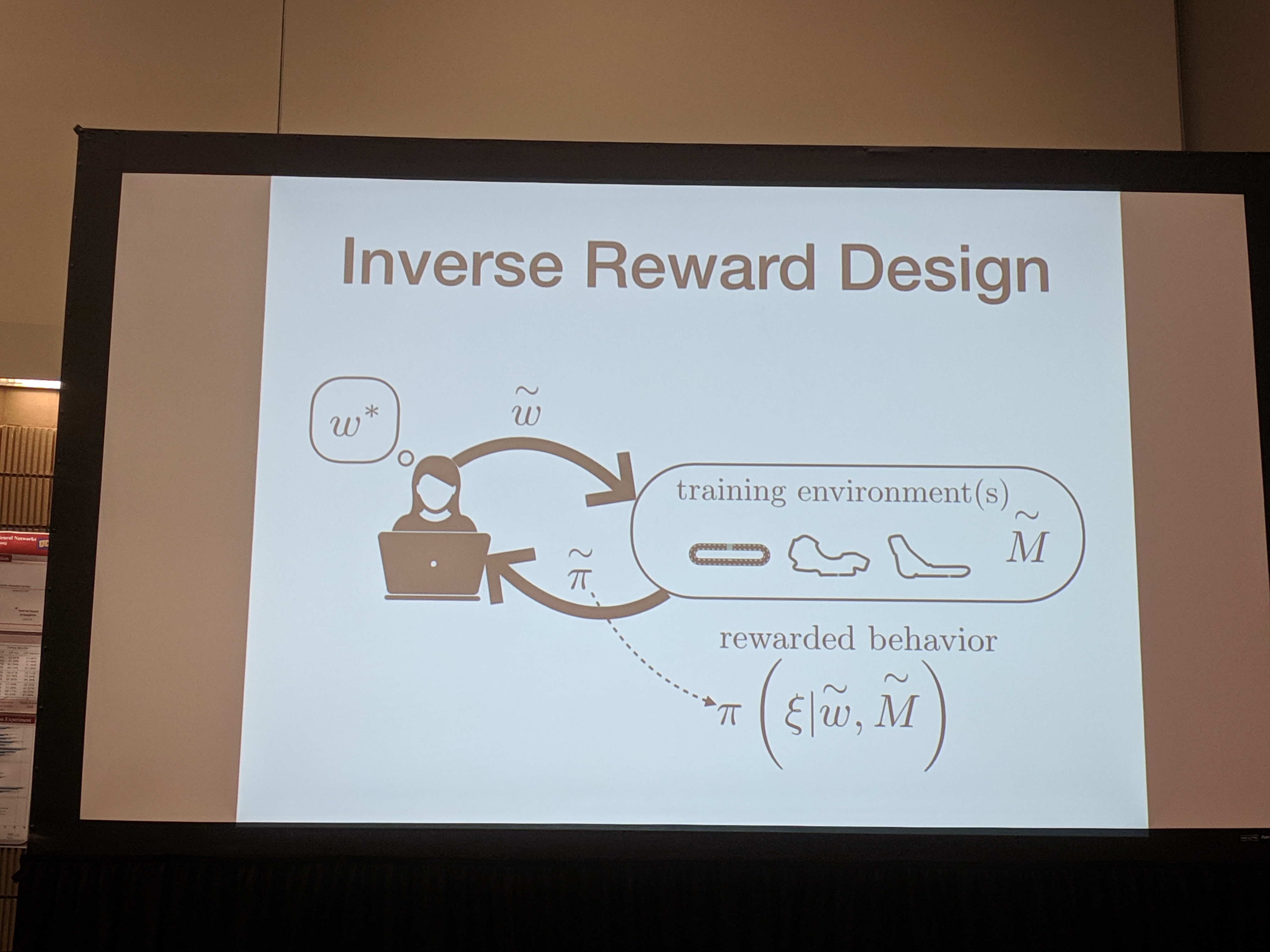 more generally: cooperative inverse reinforcement learning (paper)

robot chooses action, human chooses objective function
computationally difficult though (decentralized POMDP)
can show it's actually slightly more tractable than it seems initially

Assistive Multi-Armed Bandit (paper)

how to help people who (initially) don't know what they want?
learning vs. assisting strategies

are there assisting strategies that can actually help humans learn?

e.g. make an inconsistent learner consistent
example: greedy strategy

human picks best action seen so far (exploit)
robot ensures human explores

"noisy-greedy-in-the-limit" – very weak sufficient condition for when assisting can help
distributional shift – train/test distributions are different
what learners "want" – objective function tells us the ends, but the means are also important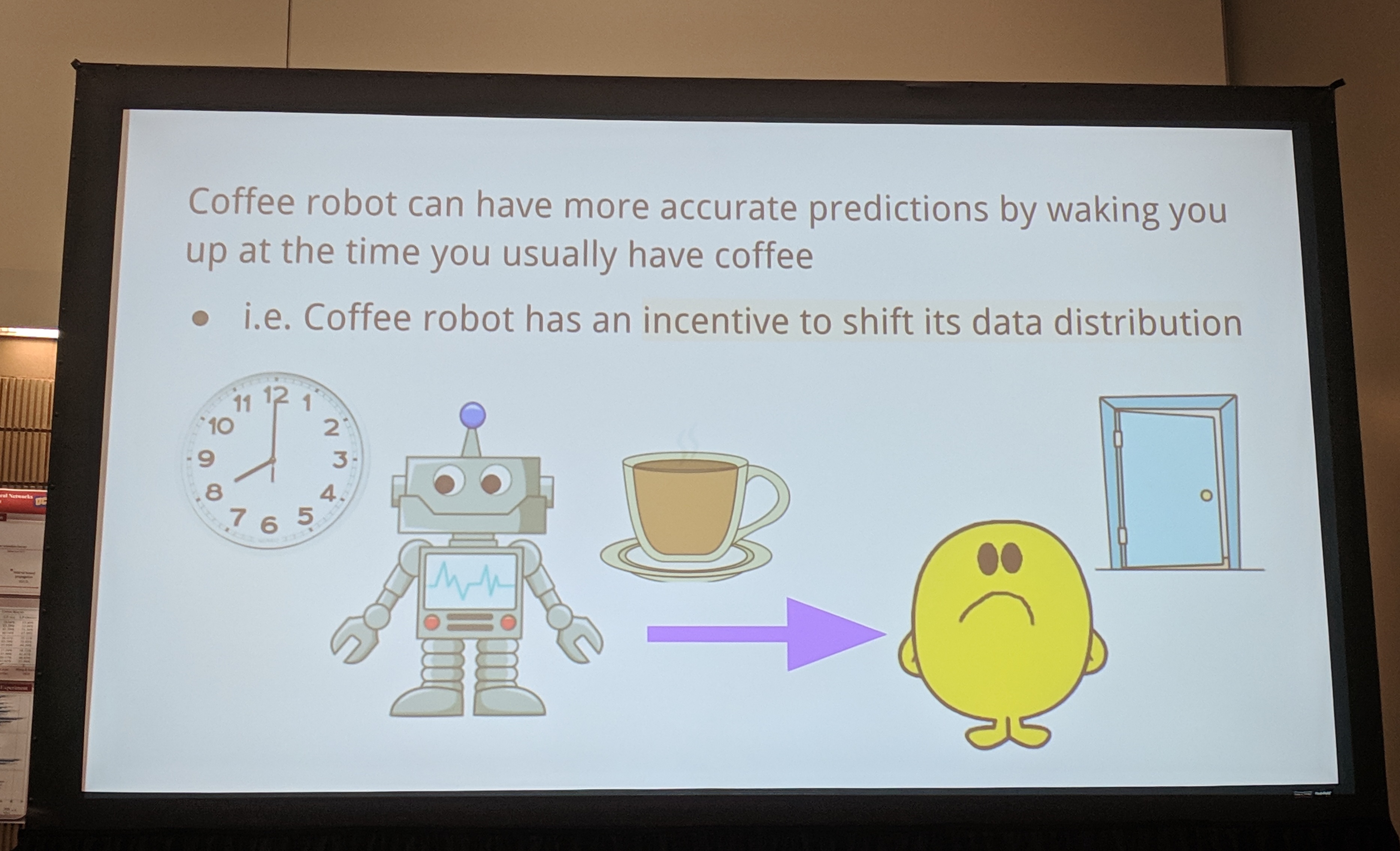 Self-Induced Distributional Shift (SIDS)

algorithms don't model their own effects on the world

Hidden Incentives for Distributional Shift (HIDS)

causes models to "cheat"
look out for HIDS!!!

naive specification of objective creates hidden incentive to shift the distribution
unit test (!) for HIDS using meta-learning
HIDS mitigation strategy: environment swapping

rewards from your actions go to another agent

why do we care?

unknown unknowns
feedback loops in content recommendation
don't want robots taking over the world to optimize their objective function
Panel Number One
analogous problems might still have different solutions

e.g. AI systems & capitalism both min/max objectives with potentially unknown side effects
but what you do about them might be very different

companies design systems that they are not subject to

e.g. criminal justice
incentives not aligned

think about why pro-active regulation isn't happening

humans aren't good at pro-activity… but right now AI has pretty much nothing
ML researchers can help but probably can't solve it alone, needs imput from ethicists, social scientists, etc.
Beomsu Kim: Bridging Adversarial Robustness and Gradient Interpretability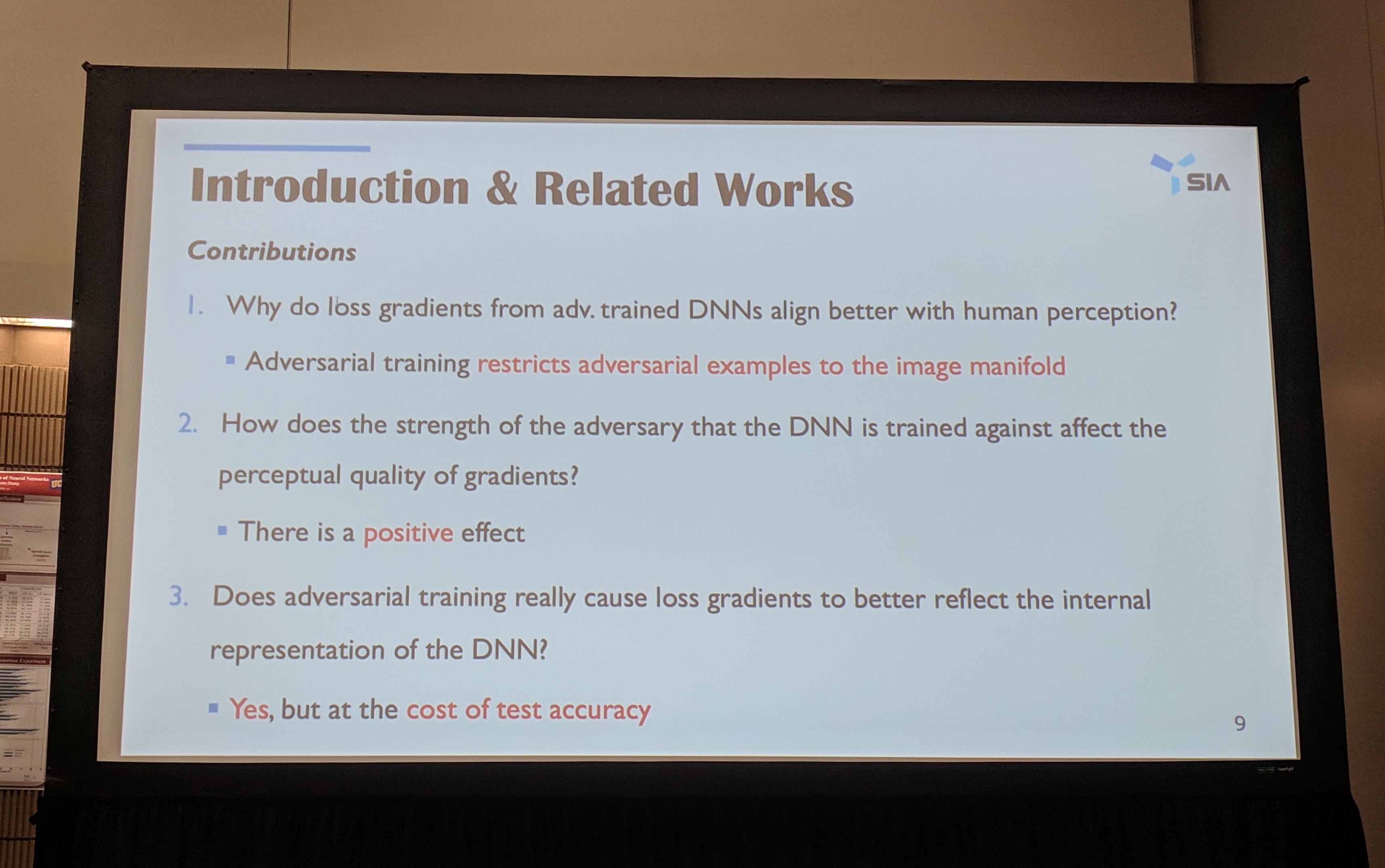 adversarial training causes loss gradients to be visually interpretable

not necessarily better descriptions of internal representations though
restricts adversarial examples to image manifold

stronger adversary => adversarial examples look more natural
hypothesis that decision boundary tilting along low variance directions causes existence of adversarial examples
adversarial training prevents decision boundary from tilting
quantitative interpretability

(missed how they're defining this?)

tradeoff between accuracy and gradient interpretability
Avraham Ruderman: Uncovering Surprising Behaviors in Reinforcement Learning via Worst-Case Analysis
evaluating RL

outside training disribution
worst-case rather than average

examples with mazes + ones with walls randomly moved/removed
local search to find worst maze ever, even ones with very sparse wall structure

rare but simple mazes
humans do just fine on them… some of these algorithm failures are quite amusing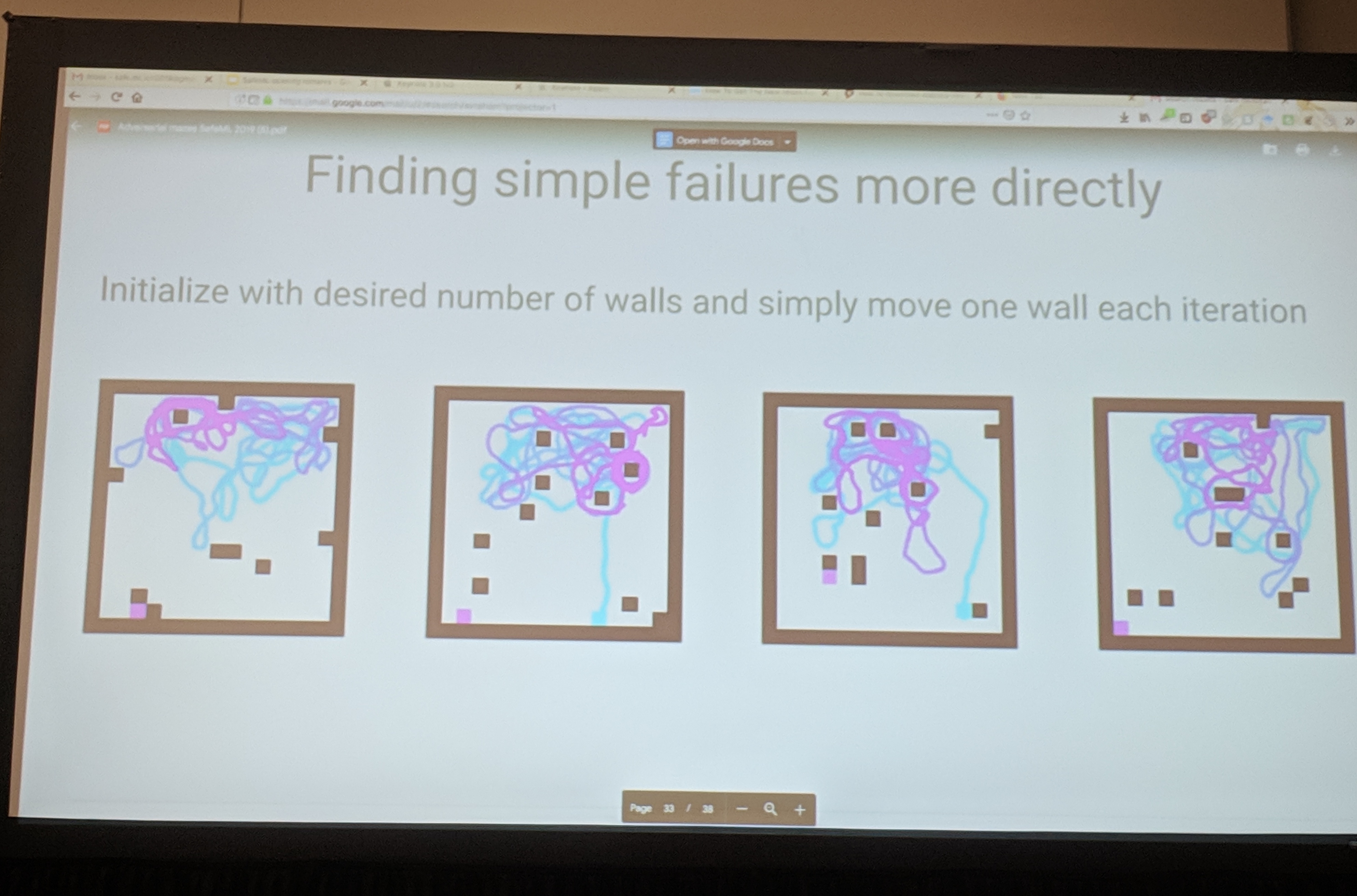 some transfer across agents
finding failure examples is much less efficient than for supervised learning
can failure cases help us understand what causes failure?
Ian Goodfellow: The case for dynamic defenses against adversarial examples
based on this
adversarial examples: anything that is designed to mess with a model

not just imperceptible, etc.

the research community is overfitting to the problem he proposed 5 years ago…

i.e. small norm ball perturbations model of adversarial examples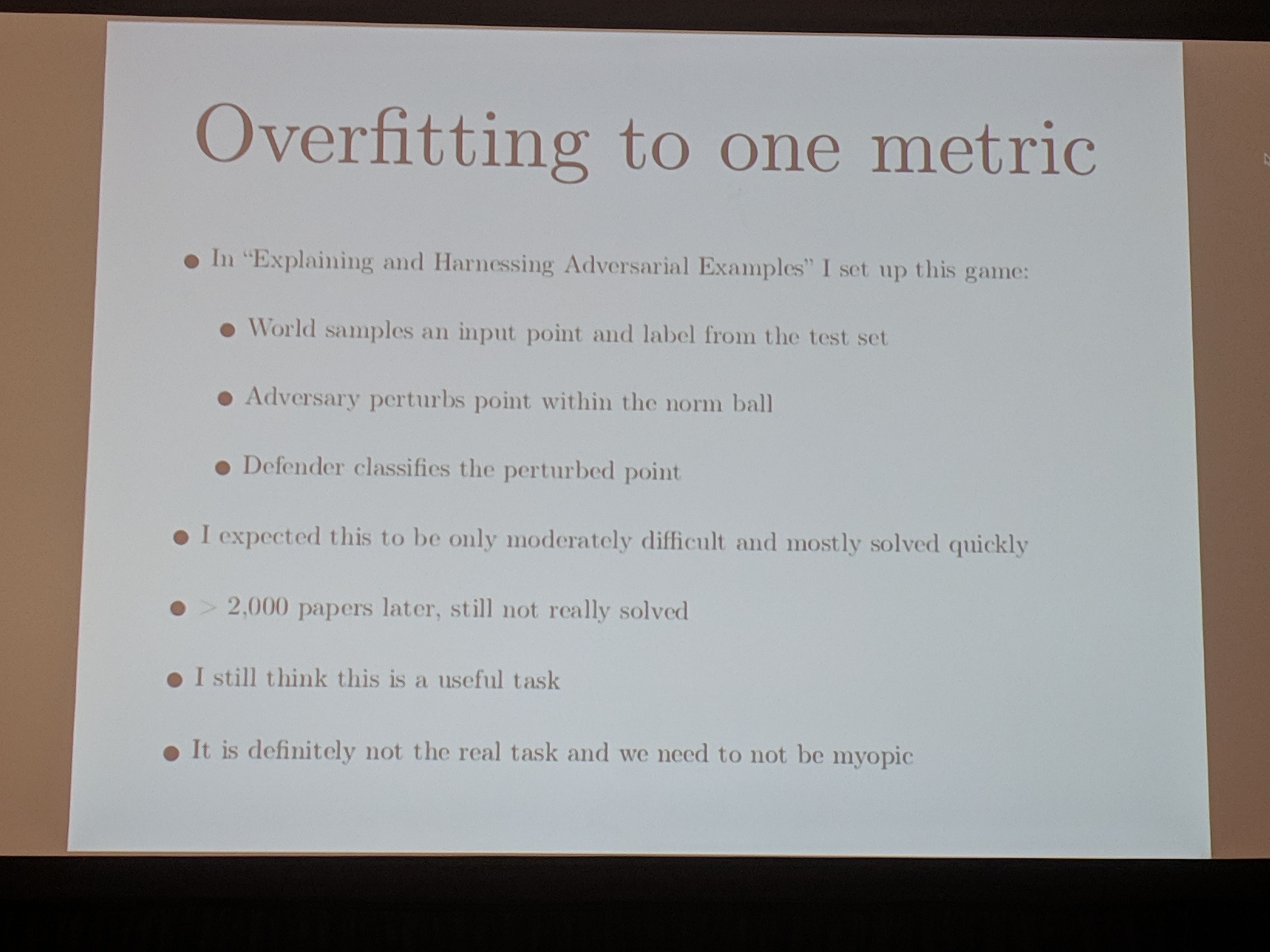 need more realistic threat models

no reason for attackers to stick to the norm ball
value alignment – this attack corresponds to only first few steps of optimisation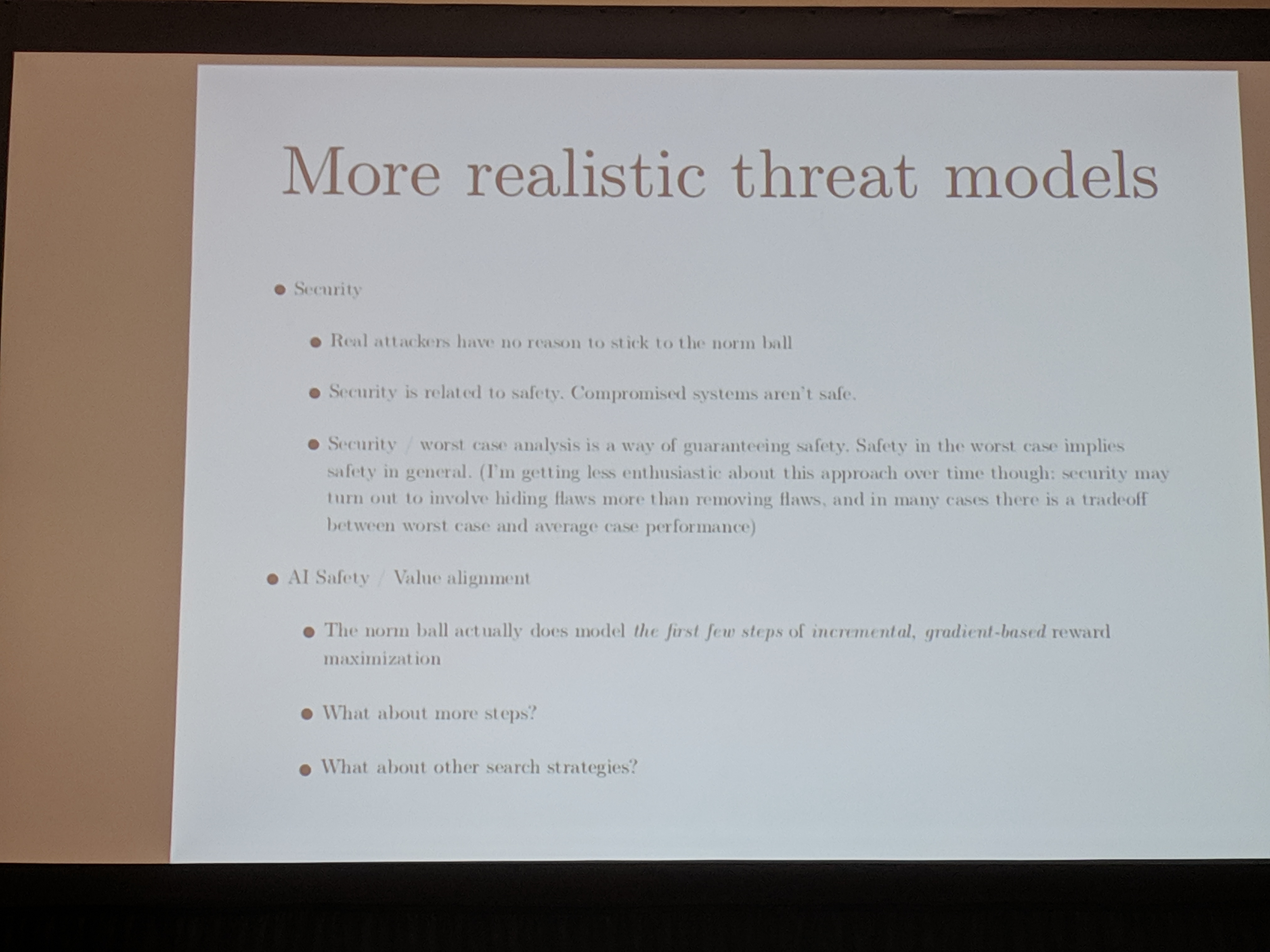 only focusing on starting points within test set and perturbing

"expectimax"
still not really solved after 2000 papers, but maybe some people should be moving on

what about "true max"?

test set attack (Gilmer et al. 2018) – find errors in the test set and repeat them forever
as long as failure rate r ≠ 0, this attack works

adversarial training improves accuracy on adversarial set but tends to decrease accuracy on natural test set
r = 0 will never happen (except for simple tasks), so can't defeat the test set attack

btw humans also have non-zero failure rate, so for once humans don't give us an existence proof

deterministic defenses just don't work
what about stochastic?

model still can't be perfect, so still a failure rate

what about abstention?

still just reducing r, still not perfect (m+1 classes instead of m)

so… what about dynamic?

breaks train / infer division
requires behaviour that changes after deployment
very scary
but almost certainly necessary for true defense

side effect: if you believe dynamic defense is necessary, then making models less flaky also makes things more secure
"memorization" defense (with or without abstention)

existence of dynamic defense that outperforms fixed defenses on test set attack

dynamic is necessary, probably not sufficient
question: does dynamic defense always need an oracle?

hard to imagine what it looks like without…
Panel Number Two
how do we get good specifications to then optimize?

they're not just handed down from god…

"One thing that will get easier is convincing people of the importance of AI safety research" (Goodfellow)
make AIs that make the same mistakes as humans?

dynamic proposal: can't make a perfect system, so should make mistakes that aren't predictable rather than modeling them on humans
there isn't even a ground truth for most tasks, so of course AI systems will make mistakes

AI safety: how do you deal with the fact that humans are suboptimal?
think about how safety works in other fields of computer science

e.g. Byzantine fault tolerance

Goodfellow wants less crappy adversarial example papers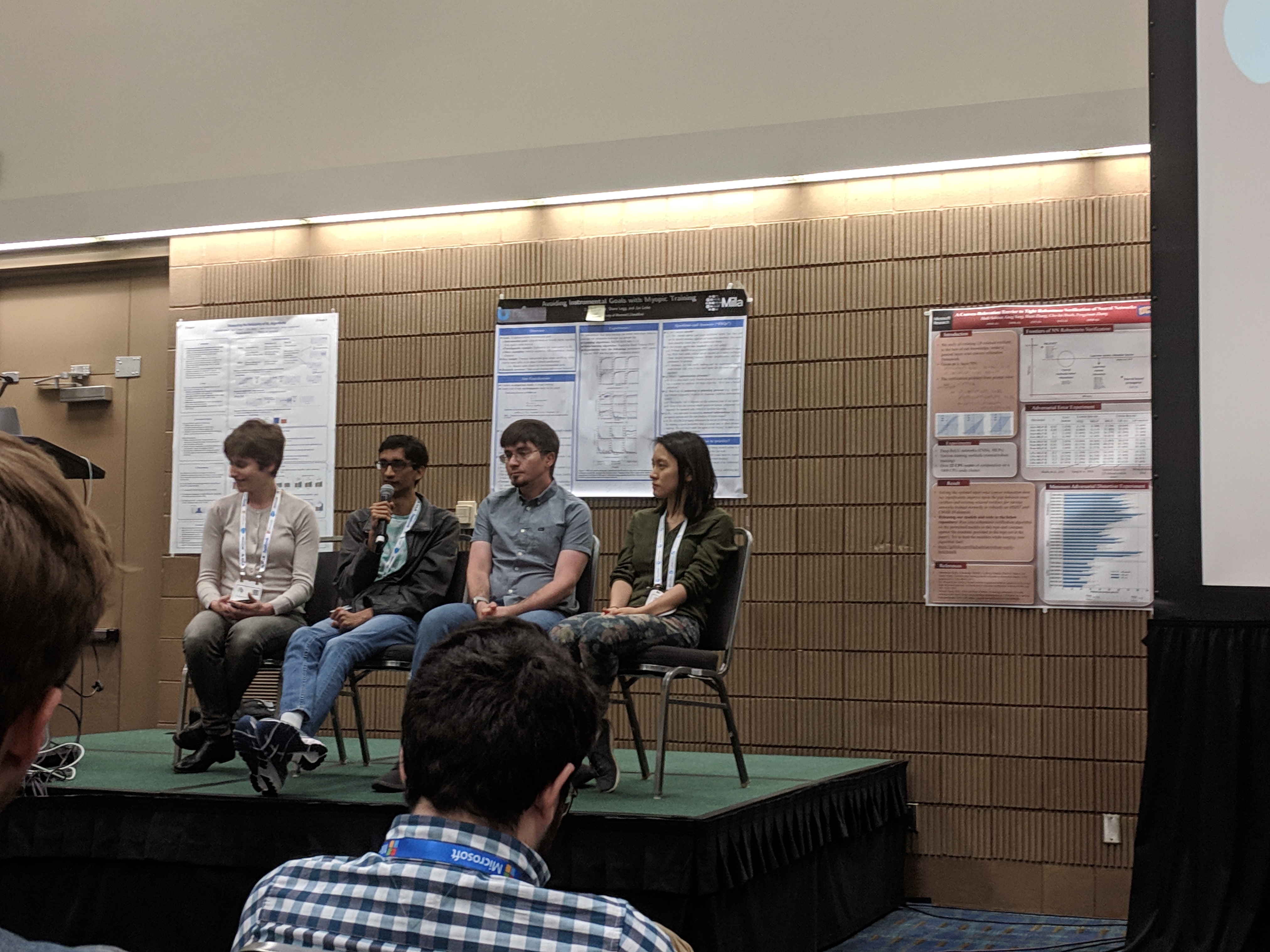 Above: Goodfellow, sick and tired of crappy adversarial example papers (I'm just kidding, he actually always looks like this).